Demo version
free
freely accessible
Calculations from January to April
Export to Excel®
Full version
€ / CHF 29,-- per year - no subscription
30 day free trial
Calculations from January to December
Export to Excel®
Settings
PDF invoice
ad-free pages
Information
Arbeitszeitrechner.ch is a web app for the calculation of working hours, dates and deadlines, based on data from Feiertagskalender.ch
A central feature of the calculator is the consideration of the locally applicable holidays for more than 3,000 communities and regions.
The freely accessible demo version allows calculations for January to April. For full-year calculations, a subscription is required.
Arbeitszeitrechner.ch is fair:
Registrations are no subscription, which renews itself.
Your address will not be sold and used exclusively for the production of documents in connection with registration
The calculator is designed according to the requirements of the Swiss data protection
Arbeitszeitrechner.ch..
.. takes into account freely adjustable working hours for each day of the week
.. takes into account local holidays, if they fall on a working day
.. takes into account time reductions before holidays
.. takes into account holidays up to 6 blocks within the accounting period
.. allows you to export the calculation results to Microsoft Excel® spreadsheets and compatible
Minutes are calculated with decimal values (8.50 h = 8 hours and 30 minutes)

Calculated values are for informational purposes only! The arrangements and provisions of your employment contract are valid in any case.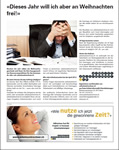 PDF deutsch, (2,18MB)